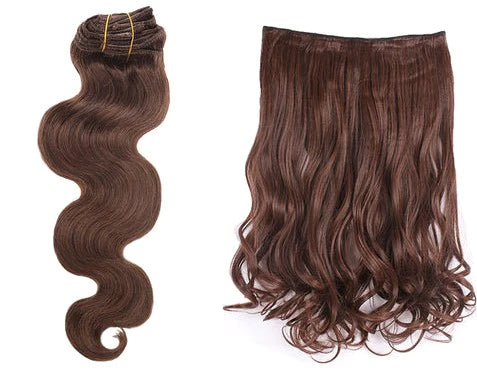 Nov 13 , 2022
Finding the right hair wig that will best suit your needs is easy these days. There are plenty of options available at your disposal in the market. Whether the reason behind wearing a wig is your hair fall, a medical condition like cancer, or any other issue, you can still have fabulous and gorgeous-looking hairs without revealing the slightest hint of the wig not being a part of your natural body.
Wigs are recommended for these women
These wigs are recommended for women who are facing permanent hair fall. The hair fall may be due to some medical or health issue or also due to aging. If you still want to display strands of beautiful hair that look natural then try this option.
Also, those women who love versatility in style will love these wigs as they allow plenty of options. Those who want hair wigs that have already been professionally styled or trimmed may also explore this option. These wigs can be prepared to look the way you exactly want to look.
One of the main advantages of human hairs is that they last longer than synthetic wigs.
Advantages of 100% Human Hair Wigs
Offer A Natural Texture
This product contains the finest hair strands. The hairs used in this wig are in perfect health and all hair strands that may lower the quality of the wig on account of either being brittle or in a split-end condition, have been removed from the wig. The end product, therefore, contains the finest hair boasting a smooth and natural texture.
Another important fact about this wig is that these hairs have been donated by donors who have abstained from applying harsh products to their hairs. These donors restricted the process of hair care to cleaning and washing. This is the reason why such products are organic and come with a healthy shine.
Most users describe the feel of these hairs when they touch the shoulders as being amazing which is why many prefer to still use the wig despite having their hairs. So this human hair wig suits all those who want to display hairs with a smooth and natural texture.
Comfortable Feeling
If you are one of those who have always been thinking that a wig is merely a colorful product with cheap quality then you need to do some research. 100% human hair wigs are made up of only healthy hair strands which means this wig is of the highest quality. As a result, the wig offers a high-quality comfortable feel and allows the user to roam freely while wearing the hair wig.
So if you are looking forward to a human hair wig that allows you plenty of freedom to move about then this product is for you.
These Wigs Come With Plenty Of Styling And Dyeing Options At Your Disposal
Unlike synthetic wigs that have limited options when it comes to experimentation or being creative, this product allows you to explore many options. The hairstyle can be changed to many different styles which means you can keep your hairs straight or curly, or even opt for a wavy style.
There are plenty of other options too. You may dye your hair or apply products to color your hair without undertaking the risk of damaging your hair. This allows you to opt for popular styles such as human hair wigs blonde. However, it is important to use only professional products as unbranded ones may damage your wig by making the hairs susceptible to weakness.
Women Human Hair Wigs Last Longer Than You Think
A common misunderstanding about this product is that since they are not a part of your natural body, they don't require care or may not last long. The hair strands in the product are real and require care just like your natural hairs. If you wash them regularly and apply the proper protein care regularly, then these hairs will last longer.
A few tips on hair care would be to keep the wig away from sunlight, preferably in a dresser. Such wigs may last up to 2 to 5 years if you take proper care. Synthetic wigs, on the other hand, will last only a year, so you will have to replace them early.  This is why human hair wigs are a better option. Also, you may consult a wig stylist to find out the proper care with which your human hair wig can be made to last many years.
A Natural Or Realistic Look
This wig has been prepared with a strong mechanism which means the wig will stay secure in one place once you wear it. Apart from the comfort that you will derive, the wig will not detach easily. Furthermore, the wig can be made to blend with your hair to offer a super smooth sight. This means once you wear the wig you don't have to worry about setting it right again.
All that you need to do is to find the right shade that will match your natural hair. You may also choose to go for extensions or use other hair colors to make the product work perfectly. All this will allow you to expose your hairs with a realistic look and no one will feel the slightest trace of your hairs not being a part of your natural body.
The Arguments Against Human Hair Wigs Answered
People tend to generalize many concepts and they do with this product claiming price and maintenance to be disadvantages of going for this option.
Seeing things from an unbiased perspective, real hairs do cost but don't forget these are real hairs and hence the costs are slightly higher than the synthetic wig. Nevertheless, the cost is still worth paying and would only be saving money in the future since human hairs have higher longevity. Synthetic wigs need to be replaced every year while human hair wigs last considerably longer, thereby implying that you will only be saving money in the long run.
The second argument of the upkeep requirements being greater is also unrealistic since a woman with natural hair also needs to maintain her hair. Hence, maintenance should not be a concept that should keep you away from trying this product.