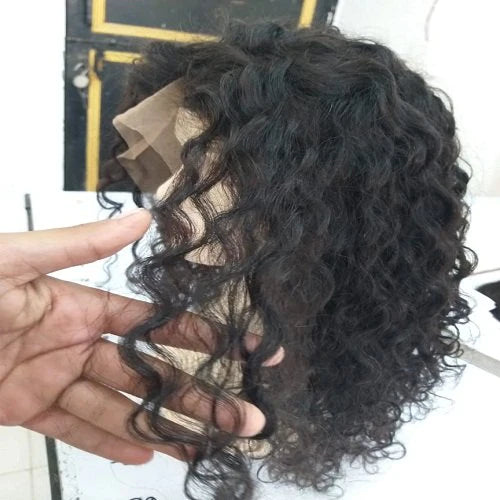 Nov 13 , 2022
Your wedding day is one of the most important days of your life and you'll want to look beautiful, don't you? For your special day, it's especially important to have salon quality hair that stands out from the crowd and complements your beautiful gown.
Once you make the decision to get married, there are so many things on your mind. You can have a destination wedding, or even a traditional one. You can get married at the beach or in a garden. You can wear any hairstyle under the sun. The options are seemingly endless because for every wedding style. One of the common issues that brides usually face is what style of hair should be done.
A quality wig will solve any bride's problems who may not feel fully confident about her own hair being in style for her big day – but wants to make sure she looks perfect regardless, going above and beyond on what any salon stylist might provide!
What are the Tips to Decide on The Right Customized Human Hair Wigs?
In today's guide, you'll find the best ways to pick the right Wig for your wedding. So without any further ado, let's get started right away!
Determine Your Look
Before buying any customized human hair wigs you need to ask yourself a couple of questions. First, what is the style of my wedding going to be? If you don't know, or have decided on something specific, then you'll need to do some research! And remember that it's your special day no matter what dress or hairstyle you go for – just go for it with all of your heart and don't let other people dictate what you should look like.
Another question to ask yourself is whether you'd prefer a wig with long hair or shorter hair: and yes there's more than one choice! Also you can if you want consider buying a colorful wig rather than a basic one. In addition if there's an idea of how would like your wig to look then make sure these specs are given to professional designers as they will help a lot.
Your Personal Style Preference
Another thing to consider when it comes to choosing your customized human hair wigs for the big day is your personal style and the style of the wedding itself. Weddings are not the time to be experimenting with new looks, but instead are a time to showcase your true self through a fun twist on an old favorite.
Are you more of a romantic girl? Try a sweet dreamy flower comb that will lead down into cascading curls along the aisle or carry petals in your hand. Wedding planning has changed from what it once was and stylists are experimenting with different styles that highlight their client's look, so don't be afraid to have fun with it!
Opting the Right Color
There is no definitive answer to this question, as the best color for a wig in a wedding depends on the specific needs and preferences of the bride. However, some general tips on selecting the right color for a wig in a wedding might include considering the bride's skin tone, hair color, and the color of her wedding dress. Additionally, it is often helpful to consult with a professional hair stylist to get recommendations on the best color for a wig in a wedding.
Or you can just scroll on our wide range of hair Wig collections and pick the one that suits your persona! We offer the most attractive yet comfortable human hair wigs in California!
Choosing the Right Wig is Important
Below we'll tell you about the most eye-catchy Virgin Indian Human Hairs that you could wear for your wedding!
Updo Wigs for Wedding
There are a few things to consider when choosing an updo wig for your wedding. First, consider the style of your wedding dress. If you are wearing a traditional wedding dress with a long veil, you will want a more formal updo wig style. Conversely, if you are wearing a more informal wedding dress, you may want to choose a less formal updo wig style.
Next, consider your hair type and color. If you have short hair, you may want to choose an updo wig style that is more voluminous. If you have long hair, you may want to choose an updo wig style that is more sleek and elegant. Finally, consider your wedding theme and color scheme. If your wedding theme is romantic, you may want to choose an updo wig style that is romantic and feminine. If your wedding color scheme is bright and colorful, you may want to choose an updo wig style that is more vibrant and festive.
Confused which Wig to consider on your special day? Let us help you get the right one! Explore our store and find exclusively crafted Virgin Indian Human Hairs that are not only appealing, but are also comfortable and one-size-fit for all!
High Bun – Elegant Hair Nest
For a winter wedding, one can spruce up a high bun by using hair accessories and accessorizing it. You can choose between embellishments that resemble snowflakes, feathers or crystals. Or you could opt for other hair accessories that you think will suit you well!
Loose, Glamorous Curls
Use a curling iron to add loose curls to all the hair you want to curl. If you have bangs, it is best to curl them first and then leave the rest of your hair out. Once you're done, just use a light hold hairspray to keep the curls in place for a few hours. If you are looking for a hairstyle that will make you look radiant, charming, and elegant, loose curls may be the best choice. If you already have long hair, all you have to do is leave it down and style the curls by using curlers or rollers.
Choosing the perfect wig for your wedding day can be a daunting task, but with the right advice it can be a breeze. We hope the aforementioned tips and ideas would help you opt the right human hair wigs in California for your special day!